Synergy Series | Energy Efficient K-Factor Transformers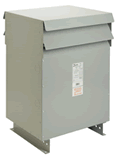 Overview
HPS Synergy®  energy efficient k-factor distribution tranformers are rated for 600 volts and below. K-factor transformers are most frequently used for applications such as commercial or institutional buildings, will, by definition, they supply widely varied single phase loads.  Energy Efficient K-Factor transformers are energy efficient general purpose transformers, but are designed to tolerate the harmonics distortion associated with non-linear loads.
HPS provides two lines of energy efficient k-factor transformers:
HPS Synergy®
Energy efficient k-factor transformers are designed to tolerate heating due to harmonics associated with non-linear loads.  Harmonics can indicate their presence in a number of ways: overheating, device malfunctions, telephone interference, equipment vibration, and breakers tripping.
Meets U.S. DOE 10 CFR Part 431 (and/or TP1) efficiency standards and the Canadian Energy Efficiency Regulations SOR/94-651 (and/or C802.2) efficiencies at 35% of rated load
Efficiencies are calculated under a linear load profile
60 Hz frequency
Three phase ratings from 15 to 1500kVA three phase
2 standard three phase voltage groups available at k-factor ratings of K4, K13 and K20
Copper and aluminum available
UL listed
CSA certified
Custom sizes, ratings and styles available upon request
HPS SuperSynergy®
The HPS SuperSynergy®  energy efficient k-factor transformer exceeds TP1/C802.2 efficiencies over a range of linear loads.  It will not only satisfy the necessity for running at k-factor modern building load types, but in addition, because of the increasing need for energy conservation, they are much more efficient than that of our standard energy efficient line.  The HPS SuperSynergy will meet TP1/C802.2 efficiencies under a non-linear load profile of up to K20 at an operating range at 35%-65% of the rated load.
Efficiency performance will be 25% better than U.S. DOE 10 CFR Part 431 (and/or TP1) efficiency standards and the Canadian Energy Efficiency Regulations SOR/94-651 (and/or C802.2) efficiency standards when measured under a linear load profile at an operating range from 35% to 65% of rated load.
Efficiency will meet or exceed U.S. DOE 10 CFR Part 431 (and/or TP1) efficiency standards and the Canadian Energy Efficiency Regulations SOR/94-651 (and/or C802.2) efficiency standards at an operating range of 35%-65% of rated load when measured under a non-linear load profile up to K20.
60 Hz frequency
Three phase ratings from 15 to 150 kVA
2 standard three phase voltage groups available at k-factor ratings of K4, K13 and K20
Copper and aluminum available
UL listed
CSA certified
Custom sizes, ratings and styles available upon request